Material Handling Carts
Sometimes standard carts don't offer the durability or features required for an application. Sebright Products offers custom carts and trailers for those applications where off the shelf carts and handling methods are not a good option.
Our custom entrained carts and trailers can haul large amounts of materials to centralized processing or compaction areas. This improves your facility or campus appearance, as well as transportation and recycling costs. Use one vehicle to pull several trailers or carts to a central location where our hydraulic cart dumpers can lift and empty the materials. After dumping, the empty bins are available to return to their separate locations.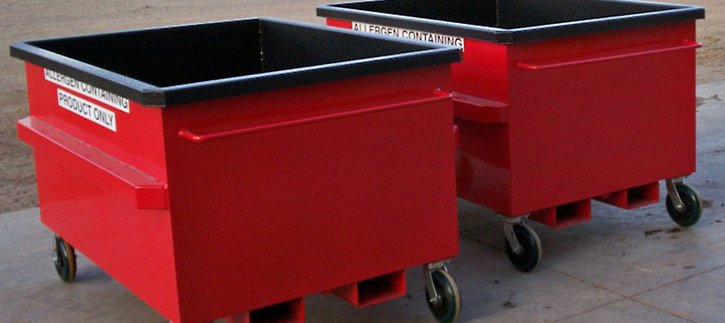 Advantages:
Centralize Your Processing Area and Equipment
Improve Facility Appearance
Reduce Transportation Costs
Reduce Employee Injuries
Save Labor & Overhead
Solve Security & Pilferage Issues
Applications Include:
Apartment Complexes
Amusement Parks
Universities
Manufacturing
Hospitals
Shopping Malls
Airports
Mobile Home Courts
We have several styles of hydraulic cart dumper and decades of experience solving unique challenges presented to us by our clients. We have designed and manufactured systems that can:
Integrate weighing, dumping and compaction equipment
Lift carts up to 30,000 lbs.
Lift carts to heights of over 20 feet
Dump your existing carts
Dump multiple sizes and styles of carts
Dump multiple carts at one time
Dump manually or fully automatic
Dump unattended from automated vehicles
Dump through an insulated door to exterior equipment
Safely dump from multiple floors into the same equipment
Literature

Material Handling Carts
Color Chart
Need an Expert?
Thank you for visiting Sebright Products, Inc. and Bright Technologies online. Our commitment is to provide you with exceptional service.