XCycler Total Product Destruction
Finally, a machine that can do it all. The XCycler is the answer for processing large volumes of full plastic or aluminum liquid containers. It dumps, perforates, dewaters, crushes, and bales in one compact and integrated system. Large milled sized bales, high thru-put and corrosion resistant stainless steel construction make this equipment a winner!
You will not be waiting for the XCycler, it will be waiting for you. With two 8" bore hydraulic cylinders the XCycler develops up to 250,000 lbs. of force to drive the liquids out and insure optimum bale density. The cart tipper is designed to handle totes of containers up to a 2.0 cubic yard capacity and cycles in under one minute, including an automatic cart rinse cycle while inverted in the hopper!
Concerns about cleanliness? The XCycler collects, contains & channels liquid to where it belongs. No Runs, No Drips, No Errors!

XCycler Features
Stainless steel construction
230 Gallon SS liquid collection pan
Ul listed NEMA 4x plc control panel
Category 3 safety interlocks
Allen Bradley electrical controls
Space Saving Design
Tipper loads and bale ejects to same area
Vertical lift chamber end door
Sliding splash covers
Deck mounted hydraulic unit
XCycler Safety Features
Category 3 bale chamber splash guards
Category 3 rope pull tipper & door perimeter
Redundant main motor contactors
Deadman type bale eject control
Bale door dead bolt (up position)
Hydraulic Power Unit
Pressure compensated pump
Oil cooler (with over temp fault)
Independent tipper vane pump
Dirty filter sensor and fault
Sound interesting?
Gary Brinkman
Director – Multinational Sales
Phone: 319-389-5444
gary@sebrightproducts.com
or call our office at 800-253-0532.
General Information and Literature Requests:
Julie VanderMoore
Inside Sales/Literature Requests
Phone 269-793-7183
julie@brightbeltpress.com
Literature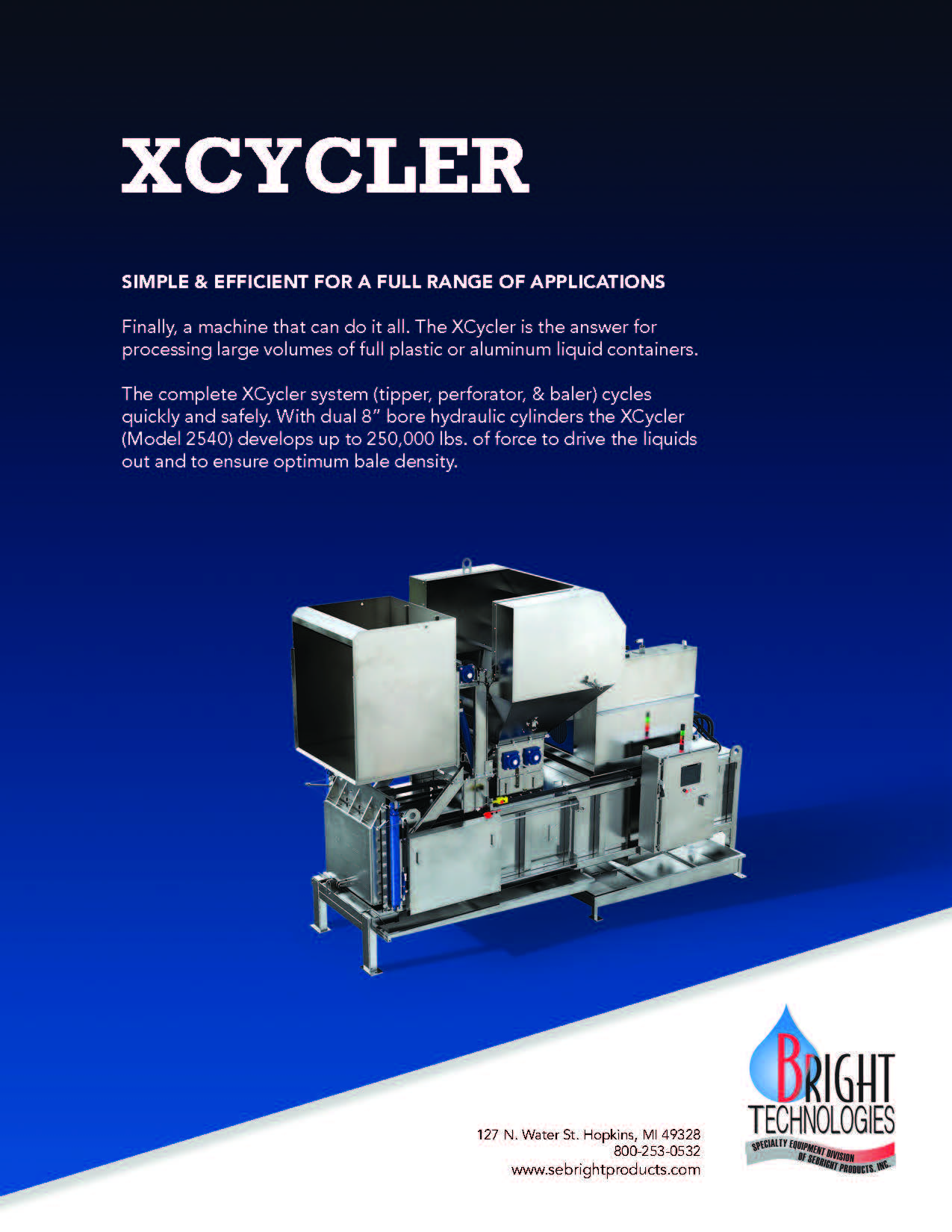 XCycler - Total Product Destruction
Need an Expert?
Thank you for visiting Sebright Products, Inc. and Bright Technologies online. Our commitment is to provide you with exceptional service.