Custom Conveyors for Unique Applications
Bright Technologies custom designs custom conveyors for a variety of unique applications. All of our Conveyors are direct drive to the pulley without a cumbersome belt or chain guards. Many of our Conveyors use modular sectional frames so the Conveyor length can be changed if the location or conditions change. Current Conveyor applications include: Cardboard Boxes, Dewatered Sludge, Pulp & Paper Refuse, Soda Cans & Bottles, Milk Containers, Refuse and more. If you need a well-built Conveyor for a challenging application, give us a call.
Custom conveyor length and widths
Direct Drive
Cleated Belt Conveyors up to 45 Degree Angles
Folding Conveyors
U-Trough or flat belt
Enclosed or Open Designs
Stainless steel frame and rolls options
Folding 36"W X 21'L Dewatered Sludge Conveyor
U-Trough type Conveyor folds for transportation and sets up in minutes. These Conveyors feature an active belt alignment system which is also designed to reduce sludge build up on the return and steering rollers.
Visit our Belt Filter Presses for more information on Sludge Dewatering
Custom convyor length and widths
Direct Drive
Manual Wench for Fold and Unfold
Active Belt Alignment

Sealed U-Trough Custom Conveyor with Counterweight Discharge Doors
Sealed U-trough Custom Conveyors are designed to lower heat loss when material is conveyed from inside to outside of a building. The Conveyor features counterweighted discharge doors that open when material is deposited by the Conveyor and close after the material drop off the doors. The belly pan has polycarbonate windows that can be removed for wash down and cleaning.
Direct Drive
Heavy Duty Stainless Steel Construction
Custom length and widths
Counter Weight Discharge Doors
Lowers Building Heat Loss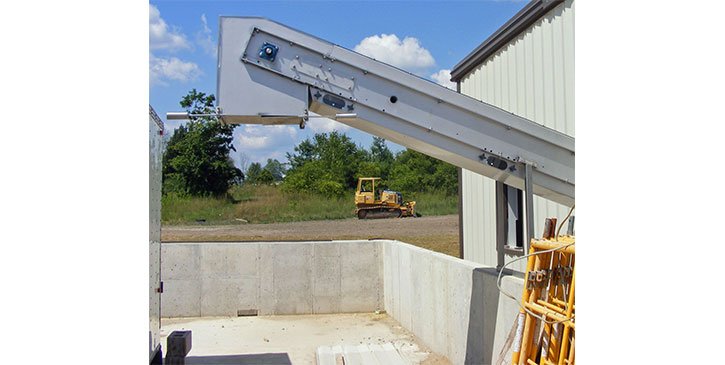 45 Degree Incline Beverage Metering Conveyor
Beverage metering conveyor is designed to transport and meter full liquid product containers into our recycling products. The stainless steel construction and sealed design returns liquids from ruptured containers to an SS liquid collection sump. These Conveyors are angled 45 degrees and use a 3 inch cleated belt which saves space and facilitates a steady average product flow. This type design has also been used to carry other small items and documents for compaction or product destruction.
Please visit our Xtractor Page for more informaiton the recycling of full liquid products.
Heavy Duty Construction
Direct Drive
Stainless Steel Construction
1 Cubic Meter Hopper
Custom lengths and widths
Hydraulic Folding Discharge Custom Conveyor
Discharge Conveyor is designed to fold vertically to save space in transportation. Hydraulic cylinders are used to fold and unfold the Conveyor, as well as adjust the discharge angle. Therefore, when folded this Conveyor takes up a minimum of valuable floor space in this mobile dewatering system. The Conveyor and complete mobile dewatering system was designed and manufactured by Bright Technologies.
Folds upon itself for Minimum Footprint
Heavy Duty Stainless Steel Construction
Adjustable Discharge Angle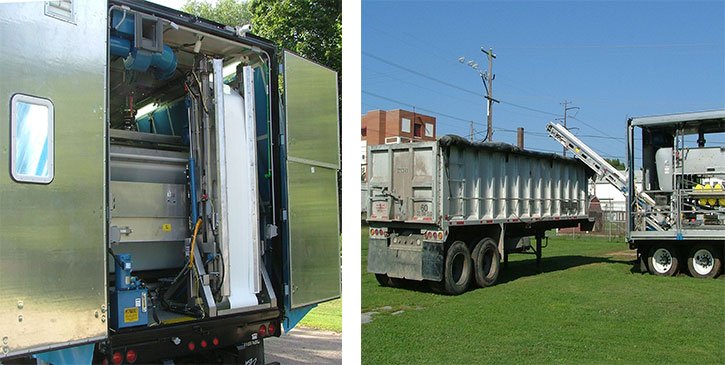 Literature

Conveyors
Need an Expert?
Thank you for visiting Sebright Products, Inc. and Bright Technologies online. Our commitment is to provide you with exceptional service.