High Density Extruders for Liquid Extraction
The High Density Extruders are used to extract liquids from many types of industrial refuse byproducts, or to remove liquids from many commonly used packaged products and beverages. Tested and proven time and time again, the High Density Extruder is the best performing, most efficient and most reliable ram press available today.
The High Density Extruder For Rugged, Reliable Operation
Sebright Products High Density Extruders were originally designed in 1992 to dewater wet rejects from the pulp & paper industry where they routinely run around the clock unattended. Moreover, this demanding application requires the equipment to accept a wide variety of materials and be durable and low maintenance. The High Density Extruder enjoys a major market share in the pulp and paper industry and because of this, many mills simply call it, the "Sebright". Since 1992, The High Density Extruders have been found to effectively dewater and compress a variety of wet materials such as grinding swarf, wet fiberglass, plastic recycling rejects and packaged liquids. In fact, our 20 years of experience and continuous improvement has produced a very effective, low maintenance and user-friendly design.
Be sure to visit the case studies page for more information on how the High Density Extruders have helped our customers.
Proprietary PLC Operated ADCS
Automated Densification Control System
The PLC monitors & maintains both the compression ram and the discharge restrictor plate pressures. Proprietary control logic (ADCS) automatically controls the restrictor plate hydraulic pressure to allow material discharge after dewatering and compression parameters are attained. Therefore, this allows a wide range of material to be dewatered. Consequently, most competing equipment has only manually adjustable restrictor plate pressure adjustments which does not compensate for changing material properties and differences in friction. As a result, creates either low liquid removal rates or equipment jamming issues.
Proprietary Timed Pressure Management
The High Density Extruder Dewatering Cycle is programmed to increase pressure incrementally over time. In fact, this is the key to providing superior liquid removal, flexible operation and cleaner effluent liquids.
Timed Pressure Management does this by:
More time under pressure allows more liquid to escape
Programmable Parameters allow optimization to the application
Incrementing the pressure from low to high allows the material to gradually dewater and creates a better solids capture rate.
Other equipment such as reciprocating ram presses and screw presses cannot duplicate both the superior dewatering and capture rate that our Timed Pressure Management cycle allows.
What Solutions Can We Provide?
Engineered Systems to Suit Your Specific Needs
Guaranteed Performance (with pilot testing)
Liquid Extraction Rates up to 80%
Volume & Weight Reductions up to 92%
Unattended Operation in Many Applications
Transportation & Disposal Cost Savings:
Improved Sanitation:
Liquid Removal = No Container Leakage
Optional Liquid Collection Sump for Cleaner Working Environment
Return on Investment:
Recycling Alternatives:
Alternative Material Use Opportunities
Liquid can be Reclaimed for Reuse or Recycling
Product Destruction – Brand Protection
Reduced Environmental Liabilities:
Liquid removed prior to material disposal
Clean and safe working environment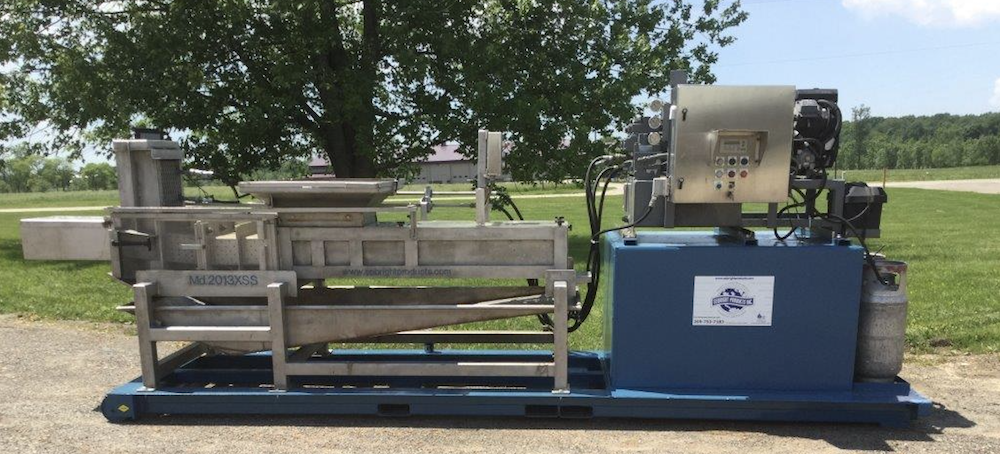 High Density Extruders Dewatering Applications:
Pulp & Paper Secondary Fiber Rejects
Pulp Mill Liquor Knots
Metal Grinding Coolant Recovery
Wet Food Waste
Recycling Wet Waste
Fiberglass Waste
Features:
Simple, Rugged Design
Multiple Sizes Available
Automated Dewatering Control
Large Feed Openings Available
Can Pack Direct into Container
Programmable Dewatering Profile
Timed Pressure Management
PLC Modem or Ethernet
Hydraulic Ram Press Design
Benefits:
Low Maintenance, Low Downtime
Appropriate Sizes for Most Applications
Superior Dewatering, Less Jams
Accepts Bulky Items
Reduced Equipment & Complexity
Optimized for the Application
Superior Dewatering & Capture Rate
Factory Technical Support
Minimum Damage from Foreign Materials
 Mobile Extruder On Site Demonstration Unit:
2013X-1-4 Extruder machine, mounted on a 20ft. 5th Wheel Trailer
We can arrange to have this unit at 

Your Site

 to run 

Your Product

, at 

Your Convenience
The following are required:
Level surface for demo unit (warm site is required)
1 cubic yard or more of representative material to be tested
A place for disposal of tested material and liquids
Warm Water Washdown area for the demo unit upon completion
For more information or a quote on a High Density Extruder contact: