Oil Filter Recycler Reclamation System
Rugged, Reliable Operation Sebright Products/Bright Technologies have over 28 years' experience manufacturing hydraulic equipment and over 20 years with liquids/solids separation technology. The Oil Filter Recycler is a product that exhibits our experience and continuous improvement in these technologies. The Oil Filter Recycler features a 30 HP main motor and a pressure compensated pump that drives 10-inch diameter hydraulic cylinders and provides a smooth reliable operation. This machine can process used oil filters up to 13 barrels per hour and accepts large filters of up to 2-quart capacity down to import car sizes.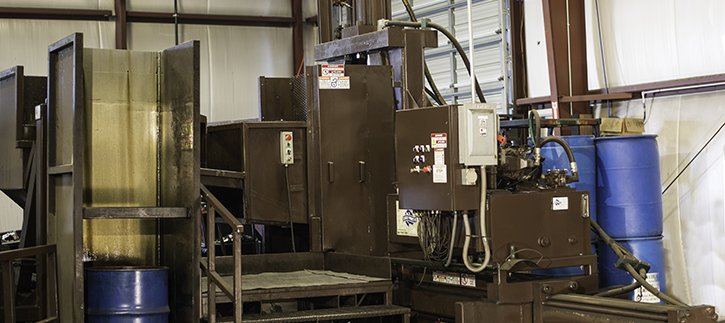 The oil from an Oil Filter Recycler, is captured in a 250 Gallon collection sump which features removable screen pans to catch O-rings and other debris. The Metering Scoop feeder allows a fixed volume of filters into the machine for each cycle, therefore, minimizes the need to shear through filters and reduces jamming. The standard hopper provides multiple cycles of unattended operation which frees up the operator to perform other tasks.
Complete Systems and Installation; we offer all the accessories needed for a complete oil filter reclamation system. Our optional Hydraulic Cart Dumper is designed to dump both 55-gallon drums and 90-gallon curb carts. The unique dumper Drip Pocket is designed to minimize oil seepage onto your floor. Our Sorting Table features a grate and screen receiving area which allows dumping of carts or barrels with large amounts of oil and filters without creating a mess on the floor. Our discharge chutes feature a V-bottom design that directs residual oil on the filter bricks into the oil sump. Our Optional Roll OFF Distribution Conveyor allows filter bricks to be directed to different areas of a Roll Off Container for better weight distribution. We also offer Roll Off Containers with a Drainage System to make oil recovery easier and faster. We also offer custom Oil Collection Tanks to fit your needs and space requirements.
You will not have to guess about how your system will look, as our engineering department will provide you with three-dimensional approval drawings. Our layout drawings will show our equipment in your building, so that problem areas are identified and work flow can be optimized.
Oil Filter Recycler Base Machine: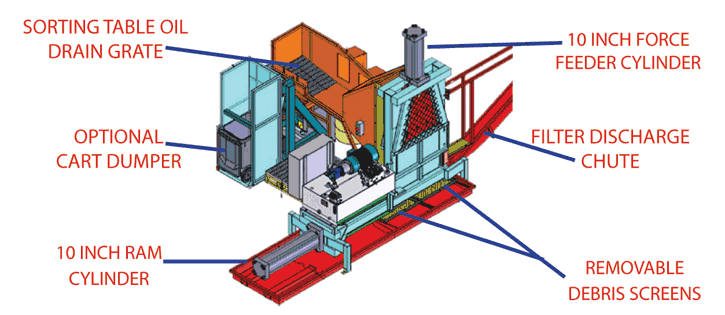 Features
Simple, Rugged Design
Metering Scoop
Hopper
Pressure Compensated Pump
10 Inch Ram & Crush Cylinder
Removable Debris Screens
PLC Modem or Ethernet
Hydraulic Ram Press Design
Benefits
Low Maintenance, Low Downtime
Reduces Shearing & Jams
Multiple Cycle Automatic Feed of Filters
Smooth Operation & Pressure Control
Superior Oil Recovery
Cleaner Reclaimed Oil
Factory Technical Support
Minimum Damage from Foreign Materials
Optional Hydraulic Cart Dumper
Features
Safe & Ergonomic
Simple, Rugged Design
Large Cart Bin
Oil Drip Pocket
3HP Hydraulic Unit & Controls
Benefits
Easy to Load, Reduced Back Injury Risk
Low Maintenance, Low Downtime
Accepts Both Drums and 90 Gal. Carts
Reduces Oil Seepage in the Work Area
Low Energy Requirement
Optional Filter Sorting Table

Features
Bar Grate & Screen Oil Sump
Sloped Sorting Area
Two Sorting Openings
Inclined Hopper Area
Benefits
Screens and Directs Oil, Cleaner Floors
Simple Push of Filters into Hopper
Easy Sorting of Refuse from Filters
Gravity Feeds Filter into the Press

Optional Roll Off Container Distribution Conveyor
Features
Roller Conveyor Uses Gravity
Operator Adjusted Drop Positions
Supported by the Filter Press
Long Inclined Chute
Benefits
No Power Needed or Driven Parts
Aids in Properly Filling the Container
Less Infrastructure Required
Aids Oil Drainage & Recovery
Roll Off Containers with Drainage System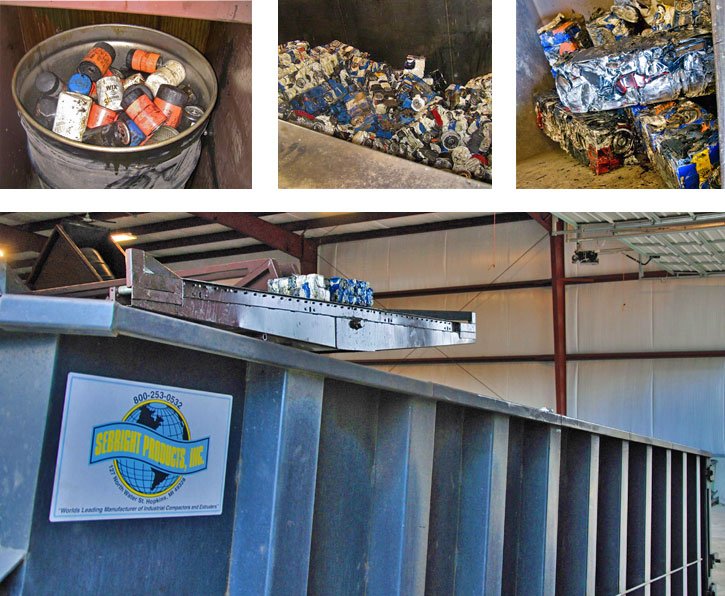 Oil Filter Recycler Features
Rugged Construction
Several Under-structures Available
Oil Drain System
Superior Door Seal
Custom Designs Available
Oil Filter Recycler Benefits
Low Maintenance, Long Life
Get the Correct Model for Your Truck
Recover More Oil
Minimum Leakage
Maximize Your Efficiency
Sound Interesting?
Gary Brinkmann
Managing Director – Sebright International
319-389-5444
gary@sebrightproducts.com
or call our office at 800-253-0532.
Literature
Oil Filter Recycler

Transforming How Oil Filters are Recycled
Need an Expert?
Thank you for visiting Sebright Products, Inc. and Bright Technologies online. Our commitment is to provide you with exceptional service.