Portable Compaction Equipment
The portable equipment is used for events, disaster cleanup, construction sites, etc. and can be manufactured in sizes from 2.5 cubic yard to 6 cubic yards chamber capacity.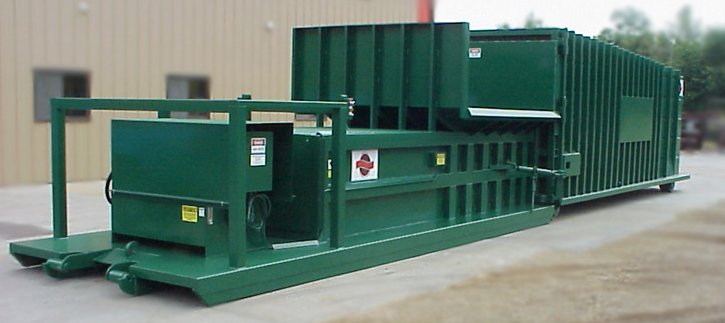 Sebright Products introduces portable compaction equipment, for construction or demolition projects. With a gas powered power unit, Sebright Product's heavy duty construction and packing force of over 76,000 lbs., you can reduce volume and waste hauling cost dramatically, easily moved from site to site to maximize loads from locations where the need is temporary or sporadic.
Need other stationary compactor styles, visit the Stationary Compactor page.
Reduce the number of open tops needed in your inventory and the number of trips your roll-off trucks take to the landfill. Save both steel and fuel.
On-site portable compaction equipment saves space and maximizes each container's capacity minimizing the number of containers needed.
Gas, propane or diesel-powered compactor is fully portable, hauled, with your roll-off trucks. No Electricity needed.
Abrasive resistant floor plate
Haulers Override Boost Station
Large top opening
Auto time cycle
Heavy Duty 1/4″ steel hopper
Panel mounted controls
Load from either side
Multi-cycle controls
A) Container full light
B) Ram position switch
C) Safety retract start
76,960 lbs. ` Max. Ram Force
113,100 lbs. ~ Max Ram Force
66″ W x  58″ L Clear Top Opening
66″ W x 58″ L Clear Top Opening
Literature

CP7460HD

Color Chart
Need an Expert?
Thank you for visiting Sebright Products, Inc. and Bright Technologies online. Our commitment is to provide you with exceptional service.