Skid Mounted Belt Filter Presses
Bright Technologies offers complete Belt Filter Press dewatering systems that are skid or trailer mounted. We design and manufacture the skid equipment package for high throughput, low maintenance, superior cake solids and ease of operation.
SKID MOUNTED BELT FILTER PRESSES FOR THE BEST PERFORMANCE AVAILABLE
Our skid mounted Belt Filter Presses are designed with long term value and ease of operation in mind.
Simply stated, we don't "Skimp" on the design or ancillary equipment for these systems. We know any system is only as good as its weakest component. Besides our patented Bright Technologies Belt Filter Press, we also provide superior sludge conditioning and better support equipment than others along with the controls needed to optimize the dewatering process.
Our controls are fully integrated and only Bright gives you an operator control where you need it, at the gravity deck. The operator can adjust the belt speed, sludge pump speed and polymer concentration as well as adjust timers etc… from either the gravity deck or main operator control panel.
Stainless Steel frame and roller construction are standard. An Allen Bradley tm touch screen and PLC integrate the press and support equipment so that unattended operation and integration into SCADA systems are easily accomplished. The optional Belt Filter Press mounted operator walkways and handrails are easily removable for Belt Filter Press maintenance and allow the operator good visibility of the process.
To sum it up, with Bright Technologies you get more than just superior equipment, you get knowledgeable people that care about your success. We use the same great components on our skid systems that we use on our rental fleet, therefore, you can be confident that we can support you with knowledgeable advice, and service after the sale.
Do you need a Mobile Dewatering System?
Check out our Trailer Mounted Belt Filter Press Systems.
Do you need dewatering equipment, but it is not in your capital budget?
A Bright Rental might be the answer.

Skid Mounted Belt Filter Press System Benefits:
Pre-Engineered for Reliable Operation
Fully Integrated Components for Ease of Control
Less Contracted Site Work than Individual Components
Compact Foot Print
Quick Installation and Commissioning
Good Choice for Making Use of Existing Infrastructure such as converted Drying Beds, Storage Buildings, Etc.
Belt Filter Press Sizes Offered From 0.6 to 3.0 Meters
Standard Features:
Epoxy Coated Carbon Steel Skid Construction
Walk On Platform Design
Non Slip Coated Operator Area
Foldout and Removable Non Slip Operator Platforms
Stainless Steel Filtrate Sump
Four Point Polymer Injection
Sludge Retention Manifold
2 Bar Belt Wash System
Standard Equipment:
Touch Screen Controls
Operator Controls at Gravity Deck
Pneumatic Control Panel
Wash Water Booster Pump
Rotary Lobe Sludge Pump
Liquid Emulsion Polymer System
Industrial Air Compressor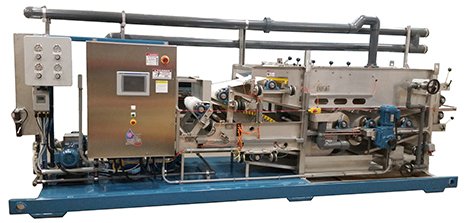 Optional Features:
Pneumatic Sludge Selector Valves
Dual Voltage Operation
120VAC Receptacles
4 Bar Belt Wash System
Belt Wash Recycling System
Sludge Retention & Mixing Manifold (Better Sludge Conditioning)
Optional Equipment:
Discharge Conveyors
Sludge Heavy Trap & Grinder
Sludge Flow Meter
Filtrate Pump & Controls
Dual (2) Polymer Systems
Batch Tank Polymer System
Dry Polymer System
Auxiliary Water Pumps
120 Volt, 20 Amp Receptacle
Clean Up Hose and Hose Reel
For more information or a quotation on Bright Technologies Belt Filter Press Systems contact one of the following: