Xtractor Beverage Destruction Solution
The Xtractor is much more than a simple can crusher. The Xtractor is a specialized piece of equipment based on our Patented High Density Extruder that is specifically designed for removing liquids from aluminum cans, plastic bottles and other liquid containers. It makes no difference if the package is aseptic, plastic or aluminum the Xtractor can do the job.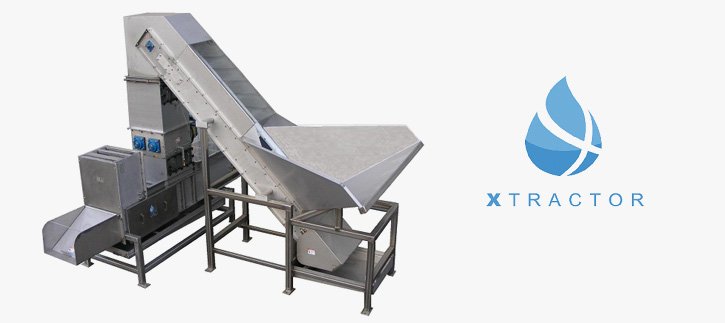 Xtractor is Your Complete Full Beverage Destruction and Recycling Solution!
Sebright Products/Bright Technologies 20 years of experience in liquids/solids separation technology was used in the design of the Xtractor and optional components to insure a clean and robust design. Above all, the stainless steel construction of this equipment helps insure a long service life and appealing appearance when dealing with low pH liquids.
Designed to  not only remove the liquid content from the package, the Xtractor is also designed to contain the liquid and crushes the packaging in a clean and controlled operation. In fact, the Xtractor and its accessories are designed to operate as a sealed unit and keep the liquid in the equipment effluent sumps and off from your floor.
Whether your interest is in repurposing the liquid or recycling of the package or both, the Xtractor is the right choice for moderate volumes of liquid products in containers ranging from 0.5 up to 4 liters. In fact, the Xtractor is able to achieve weight reduction of up to 93% and volume reduction of up to 90%, and process up to 10 cubic yards (7.5 M3) per hour of material1.
Additionally, the Xtractor can handle multiple packaging materials in the same machine. Change over from one package type to another merely requires verifying that all of the previous product has been cleared from the feed equipment and Xtractor and making sure the two products are separated at the discharge end and go into the appropriate receiving containers.
A number of discharge options available to meet your needs. It can discharge directly into a tote, cart or an optional discharge chute or conveyor may be used to put the material directly into a compactor, open top container or baler.
Optional Perforator
An optional container Perforator is recommended for plastic packaging applications to insure maximum liquid recovery. The dual perforating rollers can handle most plastic beverage containers from 0.5 – 4 liter sizes. The perforator does not shred containers so both aluminum cans and plastic containers can still be processed in one system. The Perforator features two direct drive gear motors as well as a stainless steel frame and perforating roller construction. Two sealed polycarbonate windows allow convenient monitoring of the perforator operation.
Feed Conveyors
Our optional feed conveyors take the guess work on how to load your material into the Xtractor. First of all, the conveyors feature a stainless steel frame, hopper and 40 gallon liquid collection pan, as well as, a dependable direct drive gear motor. Two standard loading hoppers allow for selection of 11 different equipment layout options. The spacious 1.4 cubic yard (1.0 M3) loading hopper can be loaded manually or with an optional hydraulic cart dumper. Most importantly, all system equipment is integrated into the Xtractor controls for seamless, automatic operation that needs minimum operator attention.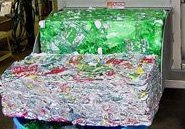 1Volumes of materials processed vary by container size and type. Aluminum cans process faster than PET containers and larger containers process faster than small ones etc…
Click here to read how the Xtractor has crushed the competition.
Xtractor Applications Include:
Bottling Plants
Dairy Plants
Food Processors
Liquid Healthcare Product Producers
Recycling Centers
Xtractor Standard Features:
Stainless Steel Construction
Stainless Steel Elevation Stand
Stainless Steel Liquid Collection Pan
Stainless Steel Splash Shields
10HP Hydraulic Power Unit
UL Listed, Electrical Control Panel
PLC with Ethernet
Available Options:
Container Perforator
Custom Feed Hoppers
Product Feed Conveyors
Custom Discharge Chutes or Conveyors
Hydraulic Cart Dumpers
Material Collection Carts
Discharge Trolley for Processing Two Product Types
Mobile On site Demonstration Unit:
Full size production machine, mounted on a 20ft. 5th Wheel Trailer
We can arrange to have this unit at Your Site to run Your Product, at Your Convenience
The following are required:
Level surface for demo unit (warm site is required)
2 Pallets of material to be tested
A place for Disposal of tested material
Warm Water Washdown area for the demo unit upon completion
Sound interesting?
Call our office at 800-253-0532 and we will connect you to the appropriate sales person