EPS D120 and D30 Densifiers
Expanded Polystyrene (EPS) commonly known as Styrofoam TM (trademark of Dow Chemical) is found almost everywhere in our daily lives. It is used for everything from coffee cups to home insulation because of its light weight and high insulation value. EPS often gets a bad rap from environmentalists, but did you know that it is a high value recyclable material?
Polystyrene Densification Systems & EPS Foam Densification Systems
Recycled EPS is used to make a host of items from DVD cases to park benches. So why does so much EPS still go to the landfill? It is precisely because the material is light and bulky. For example, a whole semi full of the lose material may weigh as little as 3,000 lbs. Let's be conservative and say it is worth $.25 per pound and that would make the whole load worth $750. Unfortunately, you can't ship it very far for $750. However, if the EPS is run through a Bright Technologies EPS Densifier before shipment it can be stacked on pallets and load weights can be over 40,000 pounds! To sum it up, a 38,000-pound load @ $.25/pound is worth $9,500.00!!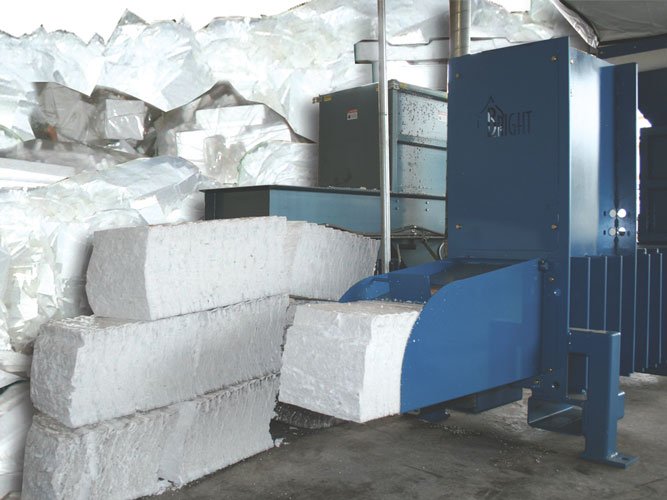 Professional Grade Equipment
Bright Technologies EPS Densifiers are heavy duty "Professional Grade" machines. This equipment is designed and manufactured in the United States. Factory direct service and installation are available in North America. Above all, the original EPS Densifiers we produced in 1995 & 1996, are still in service today.
Proprietary PLC Operated ADCS
Automated Densification Control System
The PLC monitors & maintains both the compression ram and the discharge restrictor plate pressures. Proprietary control logic (ADCS) automatically controls the restrictor plate hydraulic pressure to allow expanded polystyrene discharge after compression parameters are attained. Subsequently allowing a wide range of expanded polystyrene material to be processed without operator intervention. Many competing Densifiers have only a manual restrictor plate pressure adjustment which does not compensate for changing foam properties and differences in friction, therefore, results in either low block density or densifier jamming issues unless frequently monitored.
Bright Technologies expanded polystyrene densifiers can operate unattended and as a result, are only limited by the amount of EPS available in the bag hopper and the amount of length for the discharge log of material until it must be stacked. The large feed opening on both the D30 and the D120 Densifier help keep the foam moving and minimize bridging in the bag hopper. The Auto Shear option scores the "log" of EPS block at predetermined lengths allowing less labor and more uniform pallets of material.
Benefits Include:
Densified Expanded Polystyrene Foam full truckload weights *
Up to 1200 lbs. per Hour**
Heavy Duty / Low Maintenance
Integral Dust Collection Port
Sealed Design/ Clean Operation
Two Line Operator Display
PLC Modem for Remote Support
Automated Density Control System
Consistent EPS Discharge
No Heat Is Applied
Does NOT Melt EPS
Automatic Discharge Shear Option
No Odors
Low Labor Requirement
Low Energy Requirements
Processing Capabilities:
**Production rates vary by coming EPS properties and grind size. Also, ranges listed are typical on medium – high density EPS incoming feed stock. Additionally, Low Density EPS will result in lower production rates.
D30 — 150-300 lbs. per hour**
D120 — 800 to 1200 lbs. per hour**
Output Density:
D30 — 16-22 lbs. per cu. ft.
D120 –16-22 lbs. per cu. ft.
Optional Equipment Includes:
Automated block shear
Discharge Table
Bag house assemblies
Blower systems
Foam Pre-Breaker
Pre-Breaker Feed Conveyor
Bright Technologies PBX2 EPS Pre-Breaker
The PBX2 pre-breaker features a wide 54-inch removable hopper to accept large pieces of EPS. Dual direct drive 7.5 HP gear motors drive our unique spiral pattern chipping rolls which can process EPS at up to 2000 cubic feet per hour. The powerful 7.5 HP output blower efficiently moves the EPS up to a bag hopper. An auxiliary 3HP blower is provided to insure material movement in the lower collection bin. Additionally, the whole unit is prewired, and skid mounted, with integral fork pockets built into the skid for quick installation.
Need to sort your EPS?
The pre-breaker feed conveyor is ideal for use on smaller EPS materials. With your sorting table (32 inch or higher) at the feed end of the conveyor employees can push or pull the clean product onto the conveyor and push the foreign materials into a bin off to the side. The 46-inch-wide belt has one-inch cleats to move smaller items up the belt and a safety rope pull extends around three side of the conveyor.
A Bright Technologies Densifier system can reduce the storage space needed on loose EPS products by 50-1 and as a result, can increase the density of the raw material by as much as 30 times. So, if your business generates large amounts of EPS scrap talk to us about turning that disposal expense into revenue. On the other hand, let us help you with equipment and financing options as well as potential outlets for the EPS. Likewise, even if your volume does not justify equipment, there may be able a way to help you by putting you into contact with a recycler in your area.
EPS can be recycled and used for insulation and a variety of other items like picture frames and surfboard blanks. Click here to see what to do with all the styrofoam.
Country's largest consumer electronics retailer finds solution from JWR, Inc. and Bright Technologies. Click here to the article on how Best Buy used the EPS Densifier to cut labor and disposal costs.